Saturday, May 31, 2008
I HAVE A NEW LAYOUTT!!!
Yeheeeeeeey.
No,
I didn't make it
, it's too freaking original and nice for me to making it. Check out the credits part to see who made it.
For once in my whole entire life, I didn't mind using someone else's layout. Eh I'm tired of thinking of new things,and then I found this, and it's so cute and nice, and I just personalized the coding a bit, yeah?
I haven't been back in a while. It's a miracle I haven't been blogging, given the amount of things that have happened to me. :-)
Another thing man. I finished it before 12AM! And I wasn't listening to anything! Frankly, my ears are tired. :-))
What else.
Well it's good to be back! I think my brain has subconsciously chosen to not blog until I have a brand-spanking new layout.
Tell me what you think. :)
at
2 Comments:
Saturday, May 24, 2008
sofitel buwahahha.
I am at:
Sofitel Philippine Plaza.
Ang yabang ko. Bakit ba.
* * *
Oink, I will not return your comments/tags until the next post.
***
Pyro Olympics later!!!
I actually don't want to watch it, since they'll be salvaging the skies of mother Earth, but I'd be really DAMN stupid not to watch it. Come on, I'm at a room with a fantastic view out there. People would kill me if I miss it. :)
***
This is not a real update, gusto ko lang magyabang. I am not properly updating until I have the PURRRFECT layout. :)
***
HAHAHHA I LOVE SOFITEL.
IT HAS NICK AND ANIMAX!
yuwahahahahahhahaha.
***
Angeli, Angelique, Angie, Anna, Muy and Margot (pare-pareho sila ng initial letters) are coming HERE tomorrow. Swimming party yuhahahahahha. Barbie and Hazel couldn't make it though, curse them.
***
You might wonder why we're here.
It's my sissy's birthday tomorrow, and since we didn't go to the beach this summer, we just decided to check in. :)
***
Of all the days, I chose today to be ugly. My hair was gloriously bombed today and my face is growing a second chin due to a rearing red spot. Shite.
That's okay, tomorrow's gonna be a perfect, perfect day. :)
at
5 Comments:
Sunday, May 18, 2008
Watching?
If you're a fan of Georgia Nicolson and her diaries, you HAVE to see this. It is POSITIVELY insane. I love love it. Weeeeeeeeeeeeeeeeeeeeeeeeeeeee.

Props to Chloe for giving me the link! :))

***
will update sometime else.
at
2 Comments:
Wednesday, May 14, 2008
Listening to:
Tears in Heaven - Eric Clapton
Okay, so this might be the cheesiest Clapton song ever, but I like it. HAHA.
Would you know my name, if I saw you in heaven?
HAHAHAHAHAHAHAHAHA
Pwede na.
***
I feel like such a mess. The past weeks have been insanely busy, and I'm just not talking about all my aktibidades.
My mind has been overworked lately (I've been really lost during Trig and Geom) and I've just been thinking...and thinking and thinking. (Oh, Iron Man. Save me.)
And my blog layout. Oh, my blog layout is a mess. And I don't have any time to even try to fix it or make a new layout. I have a new URL for it, although I'm not sure if I'm going to use it anyway. But I like it. HAHA.
And then realizations and all the B.S. are hitting me hard like a...heavy brick. What is wrong with mee? What am I doing? What WAS on my mind? Why did I do that?
Haaay. I'm just so sorry, you know? Things could have been better. So much better.
at
2 Comments:
long one full of asterisks.
Listening to:
Was this the dude on the sex video with Kim K? HAHA. Who cares anyway?
Fluorescent Adolescent - Kate Nash
OH, I love this version. I love Kate's voice.
Gives a fresh take on the Arctic Monkeys' song. I still love the original version though.
Old Yellow Bricks - Arctic Monkeys
My favorite Monkeys song for the moment.
4 Minutes - Madonna ft. JT
I love Madonna. She's my guilty pleasure, including MC and the Spice Girls.
HAHA. I even listened to her non-stop Confessions on the Dance Floor album on the way to London back in '06.
Ang emo ha, but I like it. :)
***
Last Footie day with the kids at Futbol Fanatics at Tahanan Village!
AWWWWWWWWWWWWWWWWWWWWWWWWWWWWWWWWWWWWWWWW.
I'm really really going to miss them.
I've been dealing with kids the whole summer, from footie, to MSA, and even to cooking.
But I've gotten really attached to the footie kids. HAHA. I'm even planning to go back for some more next year! Even if I'd be insanely old, playing with them. The "Elders". And the "Big Girls".
Sana we get a chance to take pictures mamaya.
I know all their names na!
I hope I still see them around. I feel really sad when I think that I won't be able to see them anymore!!!
***
The PC is now overflowing with so many files, games, and programs, I won't be surprised if it bursts any moment from now
Good thing we had that extra hard drive.
Anyways, I still have a lot of music CDs to put in here (most of them bootleg) since my iPod's music...well it hasn't been updated in ages. The last music update it had was when I copied some stuff from Muy's laptop. And that was what...about early April? And then I had Limewire problems and I now reinstalled the new version, so it's up and running now, and I'm really really glad.
I've got some Joan Jett stuff to catch up on. (
Converse's "Connectivity" campaign
is so freaking fierce, it kills.)

from left to right:

Hunter H. Thompson, Dwayne Wade, Sid Vicious, M.I.A, JAMES DEAN, Karen O, Common, JOAN JETT and BILLIE JOE ARMSTRONG.

CLICK FOR LARGER IMAGE.
fine. So Hunter H. Thompson and Sid Vicious might b puking in their graves, but who in freaking hell cares anyway. I get a thrill when I see them pictures. :))
***
I've been really addicted to Watermelon Seeds these days. As in
Butong Pakwan
. Man, I can eat a whole pack of Captain Sid in one seating! Seriously. I'd rather have those than junkfood nowadays.
Oral fixation. :-))
***
Have I told you that
Magic Sing
has the best song list I've seen? Wala lang, I mean they might not have the latest, but I'm not really into the latest, so there.
I've taken a peek there a while ago and downloaded some stuff by Eric Clapton, Nirvana, Blondie, the Pretenders etc.etc.
Let it not be said that Magic Sing is kurney.
at
2 Comments:
Monday, May 12, 2008
aylaveetttt :))
Okey kokey, ang ditzy ng title ko. HAHA.
***
Alam mo ba nagising ako ng 2 ng umaga kanina dahil SOBRANG sakit ng tiyan ko?
Hindi yung tipong sakit ng tiyan na alam mo na... Call of nature.
Deins eh.
Yung sobrang sakit, pagtayo mo, kuba ka, kasi hinahawakan mo yung tiyan mo.
Hindi naman hinahawakan, ewan ko kung pano mo hahawakan yung tiyan mo... But you get what I mean.
Grabe. Buti nakatulog ako.
***
yo yo yo!!
O MY GOSSHH!! ITS SOOO PUHREEETTYYYY!!!! :) (referring to the beeeeeyooooottttiiifffoooollll chocolate heeeeeeellllsss!!!)
***
obviously hindi ako yung nagpost.
kapitbahay ko yun na feeling conya.
i'm kidding, i'm kidding.
***
at
2 Comments:
Friday, May 9, 2008
my week...continued. (this is long.)
Listening to:
Walang Kasing Sarap - Brownman Revival
haaaay ang sarap siguro sa beach.
Isn't She Lovely - Stevie Wonder
Ahhhh, the roadtrip song.
Everything You Want - Vertical Horizon
OUCH song dati. Iniyakan ko to. Grabe.
He's everything you want, he's everything you need, he's everything inside of you that you wish you could be. He says all the right things, in exactly the right time.
Sabi ko nga, dati.
***
AmIdol update:
F* loyalty, I'm not surprised Mr. Castro got the boot. He hasn't been stepping up lately. And the Bob Marley Perf was...awful. It was so bad, I switched channels.
***
I MADE A GOAL LAST WEDNESDAY!!!
I'm telling you, I could not have been ANY happier. Which means the feeling of elation surpasses the fast heartrate when you see someone you like.
Grabe, ang sarap.
I've been playing for quite a while now, and it's always been me as a defender.
Ibang-iba pag striker. You move around A LOT and your heartrate doubles and you crash with everyone...
Pero it's double the fun of being a defender. Defenders only get the fun when the opposite team is on MAJOR offense. :))
Lucky shot nga lang yun. BUT ATLEAST NOH!!!
I've had DOZENS of goal attempts today, pero wala.
Hindi pala attempts yun. Hindi nablock ng goalie eh.
Well, atleast I'm playing striker now!!!
***
COOKING WITH SEYY:
I can't spell her name without an extra Y in the end anymore.
Anyways.
It was a LOT of fun. We had an Italian chef for the first day, and he told us that in other sessions, we'd have the Pastry chef and the Japanese chef.
Ayyy exciting. Hindi talaga pwede mag-miss ng lessons.
Last Thursday we cooked
Mushroom Risotto
and
Pork Picatto
. We were grouped into 4, given the freedom to choose our own groupmates. Since dalawa lang kami, I think Seyy based it on who looks like the most sane among the kids, so we ended up with 2 sisters, an ate who's about our age and the younger kid. Stupid how I didn't get their names. :-))
Anyways. I'm excited when all the construction is finished, I could work in the kitchen and whip up delicious meals for everyone else. Yehey.
***
Okay. I'm getting really hooked with piano covers of the songs that I lurrve.
Be back with something juicy.
For now, here's SOMEWHERE ONLY WE KNOW(Keane).
AND...
LIMEWIRE SUCKS.
at
0 Comments:
CHAM, this post is for you.
Listening to:
Old Yellow Bricks - Arctic Monkeys
***
to cham:
I'll tell you what.
These are the things that I haven't done during the summer:
1. Go to the beach.
Although I did manage to get a tan and put on sunblock without actually hitting the sand.
2. Lose weight.
Which is really just great. Sarcastically speaking. Number 1 goal and I don't achieve it. Waddaheck. Sa dami ng ginagawa ko wala akong nalose na pounds dun. Anak ng *toot*, ano ba kelangan ko gawin para pumayat kahit onti? Sagwa pakinggan.
Bitter ako, kasi...ayoko na sabihin yung rason kung bakit kating kati akong pumayat.
3. Play with the PC.
This is what I was planning to do even before summer vacay started. I was planning on learning how to mix songs and videos, and then to make vectors and to toy with photoshop instead.
Sadly, wala akong time para sa ganun, atsaka laging nakapark sa harap ng PC ang akin pinakamamahal na kapatid.
4. Start a business.
This I've been planning, hindi ko lang magawa-gawa. I've been flirting with the idea of charging people for one-on-one Photoshop tutoring.
Sadly, wala din akong time. At nahihiya ako.
5. Manuod ng mga DVD.
Matagal nang andiyan ang mga Live Concert etc.etc. na hindi ko napapanuod. Nakakabarat. Pero OK lang.
So far, yan palang. :))
at
8 Comments:
Wednesday, May 7, 2008
my week. busy busy week.
Watching?
Tyra Banks Show.
They're doing the Moment of Truth Show.
Dayum. Girl's sleeping around with her husband's best friend, my God. WTF is going on with the world? I mean people. You want to have world peace and love and WTF? WHY DO YOU DO THIS? WHY WHY WHY WHY WHY?????
OH MY GOD SHE WANTS TO STAY WITH THE BEST FRIEND!!!!!!!!
The lie detector even says so!!!
Ewan ko.
***
Dirty Deeds Done Dirt Cheap
is totally my bad-ass, biker-chick, tight leather costume, Olivia Newton-John in Grease's last scene song.
Guess guess guess who my John Travolta is. :))
***
THIS WEEK HAS BEEN KAREEEYYYYYZZZY! Mayn! I mean, from the weekend up to know.
Thank God I'm pretty sensible, or I would have died by cardiac arrest.
***
We tried jogging the other day and it was so much fun din. I mean I usually like just jogging around and being left alone to my train of thoughts, so there. I wasn't really left to my thoughts though, I had
Muy
and
Chiara
with me. The first time I was with
Vanilla
, my dog, but we found out you can't bring dogs in SM's humongous parking lot.
I'M GOING THE EXTRA MILE!!!! WOOOHOOOOOOO!!!
Laughtrip ha.
***
Yesterday naman, I started my
AAPs @ MSA.
No, I'm no idiot, I'm taking advanced lessons to gear up and get ready.
I'm not exactly the best Math person, but I'm not so bad either, I just realized. So my mum's letting me and my sister take Math lessons to build up our confidence with our Math skills.
Hanep.
***
Tried out boxing with
Muy
and her friend
Pat
kanina over at
Ringside Boxing Center
, in Madrigal Business Park.
It was a lot of fun, and quite hard, especially the abdominal exercises.
The wrap smelled really funky though, and my nose is very sensitive, especially to bad smells. I get wigged out when I smell something really really bad. :)) It was very funny because the trainer was asking us to keep the standard boxing stance, hands near your face and stuff, and I can't stop laughing because the wrap stunk man. It really did. The funky, stinky, sweaty smell. HAHA.
But whatever, all is good. It's my first time and I'll probably come back when I feel like it. :))
***
Cooking with Princess
tomorrow!!! We're cooking at the Palms and I'm quite excited.
I still have difficulty how this thing will fit in my lose-weight-regime, but whatever.
***
Seeing all these travel shows about
LONDON
and
ENGLAND
make me want to cry.
I don't know if it's just me, or if it happens with everyone else, but I really do find London one of the greatest cities in the world, evaaaahh HAHA. I mean it's magical. It makes me feel like I belong there. Maybe I lived there in my previous life.
I mean it has everything I want. The downtown vintage shops and record stores, the humongous book stores, THE PARKS (oh, I love HYDE PARK), the glamour, the poshness, and the countryside as well!!! What else do I love about England.
The fact that Football is the biggest thing, and the MUSIC HAHA. And the Brits are charming and hilarious hahaha.
Not to mention, quite good-looking. :))
The English countryside is the best, though. It's like seeing your old children's books come to life. Goldilocks' home, the briar patch, the lush, green fields, and the cottages and houses were really darling.
Haaaay I wanna wanna wanna go back. I'm going to the Windsor castle again. :P And I have my camera in haaaaand hahah I love it.
at
2 Comments:
Friday, May 2, 2008
asian hospital.
Watching?
Still Take Home Chef.
Yup, you definitely atleast have to look decent when you go out, even with buying groceries. Although I'm not holding up hope my mum and I would be ambushed by anyone remotely as Aussie as Curtis Stone.
AYYY BACK TO BACK EPISODES! hahahahaha.
Girls, if Curtis Stone ambushes you, it means you're gorgeous.
Oh, I've seen this episode already. Japanese-themed dinner. Yumyum. :))
The chick looks like a Filipina and she's gorgeous. :) Pinay nga, Asia pangalan eh. Let's all go figure what I'm talking about.
Haaay I love Aussie accents. It's a tie between Brit accents and Aussie accents. A non-observant person would point out that they're the same, but they're not. Aussie accents are more... hmmm. Chill. Brit accents are more posh-sounding and snotty-sounding.
Although I love foreign accents altogether. They make listening to the dialogues more interesting. I like to think and pretend that I do good accent-impersonations. Kind people have pointed out that I could work in call centers because I was so convincing. What a compliment, haha.
I think I was once a person who could speak many languages in one of my previous lives. Not necessarily a linguist eh. Listening to accents trigger the same accent in me. Trust me, it happens.
* * *
If anyone asks what happened to my mum again, I'm going to forward the link to my site. :)
* * *
Fast bits:
Mum got sent to Asian Hospital and was initially diagnosed for
Food Poisoning
, because she showed all symptoms. Stayed with her all through 3 days and 2 nights.
Muy and Margot
, the neighbors,popped in and tripped out with us during the 2nd day. Went to ATC for an hour while grandpops stayed over at mum's.
Nurse comes in later on and says there wasn't any trace of bacteria or whatever on her poop or urine so it couldn't have been Food Poisoning.
She didn't stay for observation though, because she's OK already, albeit quite dehydrated.
Was daydreaming the WHOLE time about seeing a certain someone pop by, be on the same floor or the same elevator or whatever, just be there.
Saw no one special besides the girl who's hated by a lot of people in my school. The who?
No naming names. :))
P.S. I tried making the long part. In fact, I'm half-way through when I made the fast bit version. Then when I tried to continue, I stopped. No making sense if I continued, everything's in the Fast Bits part anyway.
* * *
PICTURES hahaha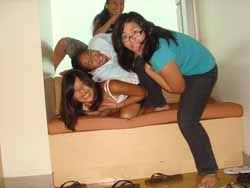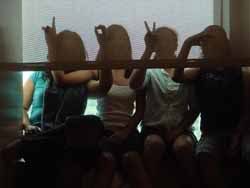 SO much pictures to be uploaded in les Multiply. Especially of us four. HAHAH. Camwhores unleashed!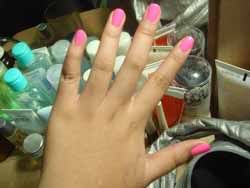 My nails, my dear friends, are NEON PINK. FLUORESCENT PINK. HIGH-LIGHTER PINK. STABILO PINK. I like it. It's a funny color. I did it one night when I was at the hospital. Such a funny color that merited many stares and double-takes from people. I don't know why they stare though. I mean sure, it's odd, but haven't you seen odd-looking nails before?
I like this color because it's not me-ish. I'd stick to the more sensible colors, brown, beige, fuchsia pink or whatever. But being not me is actually very me, if you get what I'm saying.
I have yet to buy a NEON ORANGE. FLUORESCENT ORANGE. HIGH-LIGHTER ORANGE. STABILO ORANGE color. A tribute to the two colors of high-lighters that I use. Maybe I'll use that for my feet. HAHAH.
I LOVE the
Face Shop
's nail polish. I collect lots of colors (from different brands before), and I fell in love with them since I tried Muy's stuff. It's perfect when you put a top and bottom coat. Wee, goodbye Caronia (I use their top and bottom coats still, though). I mean Caronia's good and all, but after a while, their consistencies aren't very...consistent? HAHA. And if there's a thing you should know about me, I'm a nail polish person. (I don't do nail polish at school though. Not really because they're against the rules, but more of I can't be buggered to put them on. And they always get ruined after a day.) My happiness comes in cheap. Hah. Face Shop now has a new loyal client. And their nail polishes are pretty affordable, even if you could get the same colors for HALF the price. You're paying for quality after all. And
Sally Hansen
's stuff are like WOAH! I bought a white one and I regretted it, because I never got to put it on and use it for good. :))
So helloooo Face Shop.
I sound real ditzy.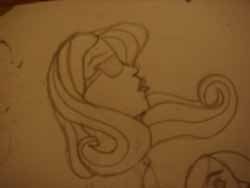 I would like to share this drawing that I made, if only because I find it fantastic. I'm not very good in drawing because I don't really practice. But I'm quite proud of this one.
Magawa ngang vector :))
at
3 Comments:
curtis stone and my dream
Watching?
Take Home Chef @ Discovery Travel & Living
I heart
Curtis Stone
because he's so Aussie and he's such a pretty boy, blonde hair, pink lips, big blue eyes, but it really is suspicious how he only picks up the GORGEOUS girls at the grocery.
Give the tatty old moms a chance won't ya? I'm betting my arse they need more help than the girls who have make up on when they're supposedly doing grocery.
If you don't have Discovery T&L, Take Home Chef is this show where Curtis Stone ambushes (GORGEOUS) girls at random grocery stores, shops stuff with them, goes to their home, and cooks dinner for her and her family.
I would like to see an episode where there's a manically jealous husband.
I mean seeing how he IS gorgeous, charming, a gentleman, and KNOWS HOW TO COOK!!!
Although my uncle kindly pointed out before..."GWAPO BA YAN?!!"
OK man, he's CHARMING and he's fit, okay? And he cooks well.
NO man, gwapo siya.
Not a big fan of blondes, but here's the man. Uh Oh. Is that a hint of a beer belly that I see?
Ahhh well, never trust a skinny chef they say. I agree. How can you trust a chef that looks like they can't even eat what they cook? :))
HOY, she picked the
COOLEST
girl this week! She plays the drums and she's a total babe hahahah. She reminds me of
Chiara
. Tamad, mukhang-hardcore, maangas air, drums and all. She's an awesome drummer.
Girl-crush HAHA.
* * *
I had two dreams last night, and it's freaky how I can remember.
The
first
one I don't want to talk about.
The
second
one though...
I was texting this guy, and it's odd how I dream of him and I can see HIM texting me back. He was wearing
red
, if I remember well, and he was smiling. (Baka inimbento din to ng utak ko. You can never trust my mind.)
Oy, creepy.
And then we were texting and we were talking about
GUITAR HEROOOOOO
.
I told him there was this song I couldn't do, can't even get past the first verse (TOO BAD I FORGOT THE SONG!!!) and then he replies:
"Ako din eh. Kuya could do 3 AM perfect."
I'm sure I got the "3 AM perfect" part right. Because I remember thinking and being confused if he was talking about the Pumpkins' song, Perfect.
This is scary because
a) I have no idea how and why I'm texting that dude and
b) WHY DOES IT HAVE TO BE HIM? and guitar hero???
c) Bakit may specific song? Is the world telling me something?
So I search in the net if there's a song that exists with that title.
Cha-ching meron! By Matchbox 20. I don't know why I'm so surprised that the song is "real". Eh, I reckoned my mind was playing with me..... Ay ewan.
Check out the
lyrics
though. I don't know if it's supposed to mean something or whatever.
Gahd, even my mind is playing with me.
at
0 Comments: